YakAttack TowNStow Barcart Kayak Cart
TowNStow BarCart
Designed for extreme duty, the BarCart is universal, collapsible, user-friendly, and robust, requiring no tools to assemble or disassemble. Nothing about this design is what you'd expect, but your expectation will never be the same after using it. With the push of a button or the flip of a lever, the BarCart can be deployed, adjusted, or collapsed in seconds. And with two bunk bar configurations, it boasts unprecedented compatibility with different hull shapes.
Wheel Options

The rubber tread, injection-molded wheel is the current option but there will be a Wheeleez adapter kit available around Fall of this year.

Assembly

The cart will be shipped 98% assembled. The only parts that will not come setup are the Dual Kick-Away Kick Stands
Weight Capacity

Flat surface rating: 450 lbs
Trail rating: 300 lbs
5 inch drop rating: 200 lbs
Storage and Collapsible Components
So, you're at the launch, now what? Sometimes it's not convenient to take your cart back to your vehicle, and doing so leaves your kayak and gear unattended and susceptible to theft. We solved this problem by making the BarCart ultra collapsible. The wheels can be removed with the push of a button. The bunk bars, long enough for even the widest fishing kayaks, collapse with a heavy-duty ferrule and bungee system, enabling them to go from a 44" deployed length to less than 18" in a compact and secure package. The uprights fold down, parallel with the axle, making it possible to store the BarCart inside the hull of a kayak. All of this can be performed with no tools using smart and simple buttons and levers. If needed, everything minus the centralized tiedown point can be removed from the aluminum axle.

Dual Kickstands
The BarCart comes with two kickstands. When configured with one on each side, you can optimize and support the loading angle for both sides of the cart. When not in use, the beefy kickstands snap in place, locked out of the way.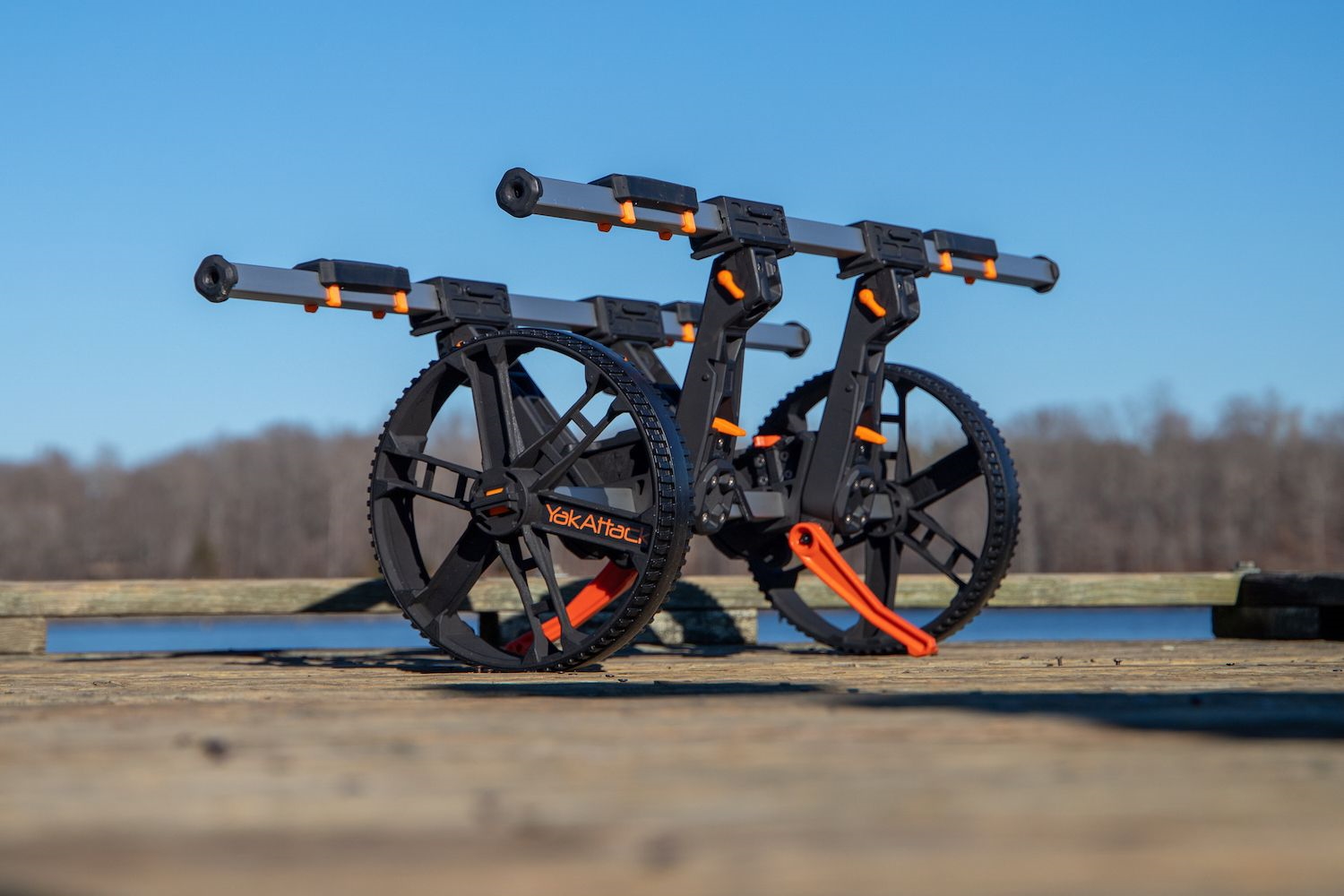 ---
We Also Recommend