2022 Never Summer Men's Proto Synthesis Snowboard
Much like photosynthesis - the mechanism by which plants convert sunlight into energy - the Never Summer Proto Synthesis Snowboard converts snow and gravity into pure human stoke. On a pow day, when conditions are especially ripe, you can hear the reaction occurring in the form of spontaneous, involuntary hollering: "YEWWWWWW". It's remarkable stuff, destined to be studied closely by snowboarding scientists searching for a cure to mankind's ills. For now, you can do your bit by picking up one of the most energetic all-mountain twins ever conceived and hooking yourself into the stoke mainframe. For the good of mankind, obviously.
Ten years ago, Never Summer created the Proto CT, and the Never Summer Proto series quickly became the best-selling board in snowboard shops across the nation. Proto CT→Proto HD →Proto Type Two…and now the ProtoSynthesis brings you a new definition of explosive pop and vice-like edge hold. The ProtoSynthesis features Shockwave Rocker Camber, the most massive store of energy found in any profile in snowboarding, and Power Grip Sidecut, the biggest advancement in snowboard edge technology ever created. NS created the perfect All Mountain Twin, proving for the 4th time real American snowboard innovation can improve upon perfection.

(X - Wide version of the original)
Camber Profile

Shock Wave Rocker Camber

Shock Wave Rocker Camber features extended camber zones underfoot towards the tip and tail for explosive pop and solid stability, with smaller rocker areas that retain quick turn initiation and enhance floatation.



Extended Transition Area – Never Summer adds a small flat section in the snowboard profile that improves both turn initiation and powder flotation.

Flex
Dampness Rating – 6/10

Flex Rating – 6/10

Shape
Vario Power Grip Sidecut – Vario Power Grip Sidecut utilizes multiple radiuses creating extra contact points to enhance edge hold. A flat section in the rocker area provides a broad contact point when flexed, however when unbent allows the board to track straight and not catch. Flanking this straight section are two shallow radii which provide the second and third contact points. Towards the ends of the sidecut are deep radius which renders quick turn initiation and the final contact points.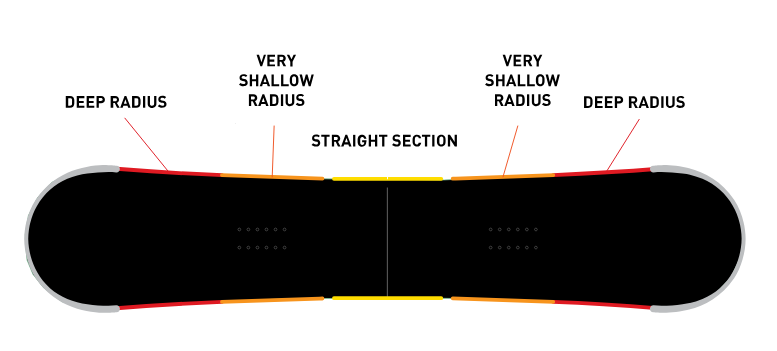 Low Profile Tip/Tail – A low profile in the nose and tail of the snowboard maximizes material contact with the snow for more powerful ollie/nollie pop and stability to your landings. Low Profile Tip/Tail also reduces the plowing effect in the nose for better glide to the next feature and superior float when it's deep.

Core
NS Superlight Wood Core – Never Summer uses a custom blend of wood species that was created to be the lightest weight yet durable core on the market. The NS Superlight Wood Core is CNC sanded in the custom woodworking facility to a fraction of a millimeter. A tailored flex is perfected, giving their snowboards unequaled performance.




Laminates
Recluse Web Carbon Layup

A specially positioned carbon web that is designed to add extra spring and stability, while adding extra edge pressure.

STS Pretensioned Fiberglass – The world's best snowboard fiberglass, period. This advanced pre-hardened, pre-tensioned, layered laminate has added elastomer stringers between the 0 degrees and 90-degree glass fibers (the length of the effective edge). This produces a stronger bond between the individual glass laminates giving our snowboards unmatched strength, edge hold, and performance.

Bi-Lite Fiberglass – Bi-Lite Fiberglass combines many of the strength characteristics of Never Summer's STS fiberglass with an ultralight glass fiber matrix. This delivers incredible freestyle and freeride performance without sacrificing durability.

Perforated Rocker Pad – Perforated to reduce weight, these thin elastomeric Perforated Rocker Pads are strategically located in the mid-section of the board. This absorbs the vibration between the feet and provides a buffer in the rocker area which is in continuous contact with the snow.

RDS 2 Damping System – This lightweight system uses three narrower laminated dampening layers that provide the perfect combination of vibration, absorption, and stability. RDS 2 is the perfect balance of freeride stability and freestyle liveliness.

Elastomeric Underfoot Stabilizers – Elastomeric Underfoot Stabilizers directly below the mounting area provide optimum vibration absorption and increase high-speed stability while reducing foot fatigue.

Harmonic Tip/Tail Damper – Harmonic Dampers in the tip and tail take out a high percentage of residual vibration by quieting the nose and tail. This enhances stability at speed, in variable snow conditions, and on-board landings without deadening the liveliness and pop of the cambered areas.

Sidewalls
Sintered P-Tex Sidewalls – Never Summer was the first snowboard company to use and perfect Sintered P-Tex Sidewalls, and they've never seen one crack. Unlike conventional ABS sidewalls that have a tendency to crack in colder temperatures, Sintered P-Tex Sidewalls maintain their integrity at any temperature.

Base
Durasurf XT Sintered 5501 Base – Crown Plastics has developed an exclusive, super-fast, durable sintered base specifically for higher end boards. Just the right amount of graphite has been added making the Durasurf XT Sintered 5501 Base the fastest Never Summer has ever used.

Topsheet
Premium Coextruded Polymer Topsheet – The Premium Topsheet is a durable, lightweight, scratch and chip resistant fiber backed thermoplastic. The premium top sheets also provide more grip than other top sheet materials, working as a built-in stomp pad.

Additional Features
P-Tex Tip/Tail Protection – Boards with P-Tex Tip/Tail Protection have UHMW plastic or P-Tex which is a softer molecular material that not only seals and protects the wood core but also absorbs vibration and impact.

Binding Compatibility
2 x 4 Insert Pattern