Hobie Mirage Passport Roto 10.5 2023
Mirage Passport 10.5 R
Your Passport to all-day fun in the sun.
Meet the newest member of the Passport line of kayaks, the Mirage Passport 10.5 R. Equipped with an all-new rotomolded hull construction and tons of features, you'll enjoy extreme stability and impressive performance on the water. Not to mention the new look. Enjoy the water from the relaxing, breathable seat of the Mirage® Passport® 10.5 R. The easy-to-use steering system and twist-and-stow rudder make navigating through tight waterways or maneuvering around obstacles above the water as simple as ever. The powerful and patented MirageDrive with Glide Technology and Kick-Up Fins allows for smooth sailing in all conditions. Rocks, stumps, or suddenly shallow water? No problem. The Passports' revolutionary Kick-Up Fins collapse on impact and redeploy when the obstacle is clear, ensuring those underwater nuisances don't slow you down or interrupt your ride. Backed by over 20 years of experience in pedal propulsion, the Passport 10.5 R is the easy choice for all-day pedal-powered fun on the water. Cruise in comfort and relax in style. Starting to deliver in September 2022 exclusively at your local Hobie dealers in North America.
THE HOBIE DIFFERENCE:
KICK-UP FIN TECHNOLOGY
Our Patented Kick-Up Fins provide the power to charge through the water as never before. Logs, kelp, shallows, rocks, no problem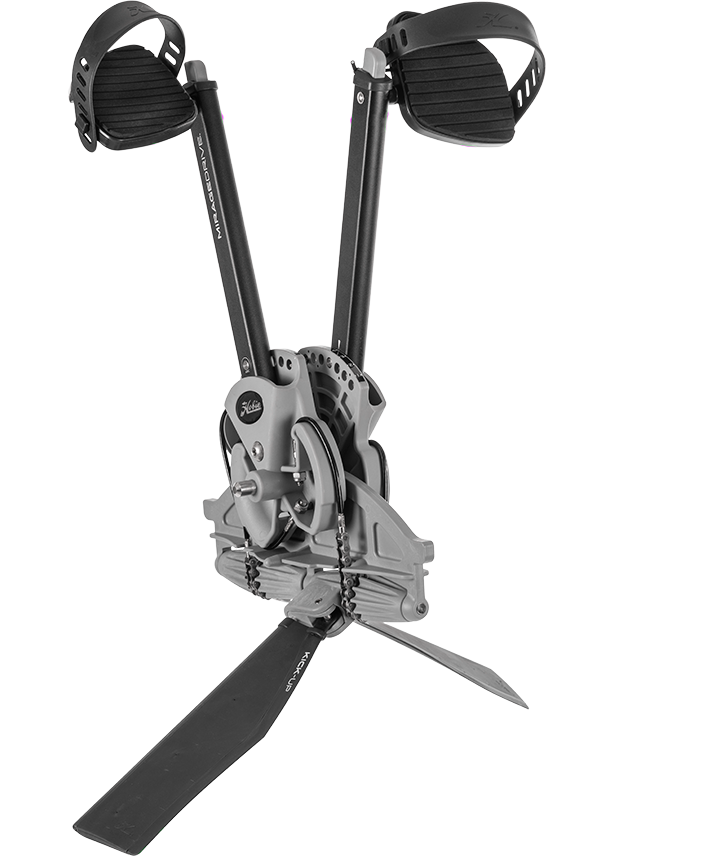 POWERED BY
MIRAGEDRIVE WITH KICK-UP FIN TECHNOLOGY
The MirageDrive pedal system with Glide Technology and Kick-Up Fins features legendary bioengineered performance. Power forward virtually hands-free.
FEATURES:
BOW AND STERN CARGO WITH BUNGEE

VERTICAL ACCESSORY TUBE (SAIL AND BIMINI)

MIRAGEDRIVE POWERED

8" TWIST-N-SEAL HATCH

ACCESSORY MOUNTING TRACKS (2)

SUSPENDED MESH ALUMINUM FRAME SEAT

CARGO SCUPPERS FOR HOBIE CART AND HOBIE LIVEWELL

ALUMINUM 2 PIECE PADDLE

ROD HOLDERS (2)

CARGO SCUPPERS FOR HOBIE CART AND HOBIE LIVEWELL

STEERING SYSTEM WITH STOWABLE RUDDER