SMT10 Grave Digger 1/10th 4wd Monster Truck RTR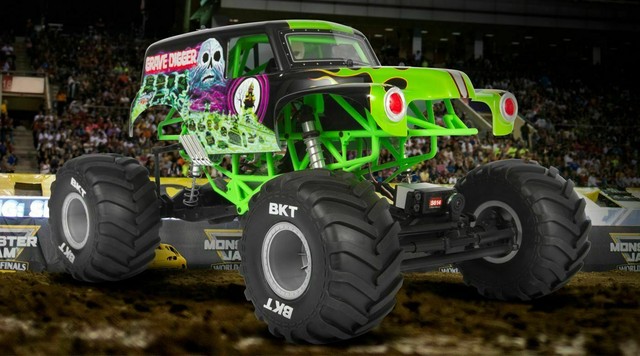 MORE POWER! 550 SIZED 12-TURN MOTOR
Among the updates Axial designers have given this Grave Digger® truck is a more powerful Dynamite® 550-size 12-turn brushed motor. It provides increased torque and top speed to help you pull off radical monster truck moves.
DYNAMITE® 60A FWD/REV BRUSHED ESC, WATERPROOF
 This waterproof, brushed ESC is NiMH/LiPo compatible and offers forward/brake/reverse, forward/brake, and crawler drive modes.
2S Li-Po down to 12T
Waterproof for all-weather operation
Program functions changed with the use of jumper pins
ICONIC GRAVE DIGGER® BODY

Genuine Grave Digger body, licensed by Feld Motorsports. This is a real as it gets!

• .040 polycarbonate replica of the classic Grave Digger 1950 panel van
• .040 scale interior with driver figure
• Chrome Zoomie style headers
The iconic paint scheme of the classic Grave Digger® 1950s-style panel van — a ghoulish blend of black, purple, and green — has thrilled fans of the full-scale Monster Jam® legend for many years. Axial® Racing obtained the license from Feld Motorsports to offer the Grave Digger® for the first time as a true-to-scale, 4-wheel drive, straight-axle RC monster truck. The RC Grave Digger® rides on the Axial® SMT10™ tube frame chassis, which was developed for maximum bashing strength and an extremely detailed appearance. High-quality electronics also contribute to the Grave Digger® model's never-say-die performance. Available ready-to-run, the vehicle comes with a 2.4GHz Spektrum™ radio system and powerful Dynamite® motor and ESC. Together with incomparable Axial® engineering, they make the 1/10 scale SMT10™ Grave Digger® the perfect bashing monster truck for everyone from scale RC enthusiasts to full-size monster truck fans. On grass, gravel, pavement, and asphalt tracks, it's ready to make your competition scream!
---
We Also Recommend